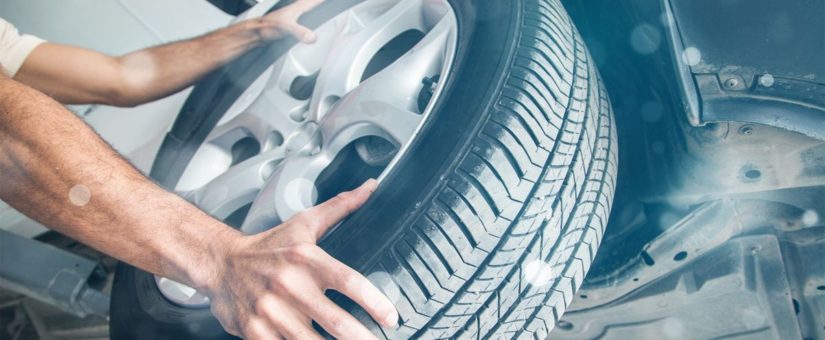 Tire Repair/Change
When you have a flat tire that needs replacement, there are plenty of affordable options to fix it. You can find the tire store near your house or just let your nearest mechanic do the fixing and replacement for you. Remember, not every damaged or flat tire is repairable. Sometimes, replacement is the only choice you have.
Determine the Source of the Damage or Flat Tire
The most visible sign of a flat tire is the loss of air pressure. There are numerous factors that can cause the air pressure in your tire to go down. Your tire can leak air slowly, or it might blow out immediately. If your tire blows out, you know what the obvious fix is. However, things are different when the pressure leaks slowly. You have to check the treads, tire bead under the edge, and the sidewall of your tire to find out what caused the leakage.
To identify the source of the damaged tire is easy, too; all you need is to remove the tire from the vehicle first. After removing the tire, you can check for the damage more effectively. The inner layer of your tire will show if it is damaged or intact. Flat tires are inconvenient but take them to a tire repair shop near you and it won't take more than 15 minutes for the fix.
When a nail or any other object punctures your tire, you can still fix the tire. But if the puncture is deep and the diameter is more than ¼ inch, you cannot fix it. If the puncture is in the tire's shoulder or sidewall, you have to throw the tire and buy a new one.
When there is more than one puncture, you probably can repair the tire only if the punctures are a few inches apart. In case of a serious damage, such as big tread or cut separation, you should replace the tire rather than repair it.
Repairable Damage
In the majority of the cases, a flat tire is a result of some nail or other pointy object puncturing the tire. You can repair a puncture by using plugs and patches. Tires with a tread depth of less than 1/16 inch must be replaced. When a repairer is fixing your tire, make sure that the remaining tread of the tire is enough to keep your vehicle stable on the road. Too much tread loss will make handling difficult, and slippage during wet weather can result in serious accidents.
Often, plugs and patches do not work properly on their own. A plug might seal the exterior, but it does not automatically seal the interior of the tire. Similarly, a patch will seal the interior, but not necessarily the exterior. You can use a plug patch to repair a damaged tire more efficiently. A plug patch is a mixture of a patch and a plug that repairs the tire entirely.

Tire Tread Repair
Plugs are characteristically better than patches for tiny punctures. You can use the plug technique to repair the tread of the tire with tiny punctures up to ¼ inch in diameter. Patches are normally better and suitable for abrasions, cuts, or splits on the tire.
Non-Repairable Damage
You cannot repair tires with a split or cracked sidewall safely. In addition, if a piece of your tire that assembles on the wheel is split or cracked, you cannot fix it. In such cases, your tire will require replacement. It is imperative that you check your tires closely. If you notice any defects on the tire, it might be the cause of your damaged wheel. If the wheel is poorly rusted or bent, it must be replaced or repaired.
Tire Replacement
For tire replacement, you need to check the size of your tire, which is written on the sidewall of every tire. You can buy new or second-hand tires of all sizes to replace your damaged tire. Again, if you are buying a used tire, make sure you check its condition beforehand. A worn out tread and bumpy tire surface means the tire is not usable. It is not safe to drive around with a worn or damaged tire. You can replace them in pairs if you are on a budget.
Final Thoughts
You should make it a habit to check the tires of your vehicle before you go on a drive. Flat tires are common and people take them lightly. However, a sudden flat tire when you are speeding can cause a serious accident. Furthermore, not fixing a small issue with your tire will result in a bigger one later on. In addition to the tires, you should also inspect your wheels/rims because their condition can directly impact the integrity of your tires.
Posted by Jake Austwick
On July 6, 2020