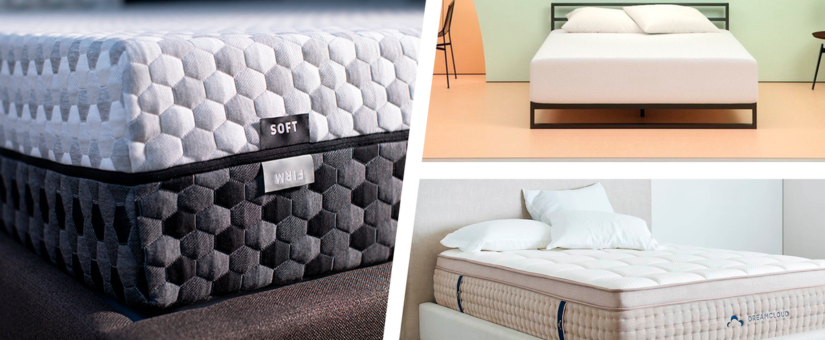 How to Choose a Mattress
People spend a lot of time in their beds as a way to get comfortable and relax. Medical experts and various professionals emphasize the importance of a good night's sleep because of its re-energizing effects. That is why it is essential to select the right mattress. But how do you know which one's right for you? Lucky for you, we've mentioned the important things you should know before purchasing a mattress.
How You Can Replace Your Mattress
Having a longer warranty may not guarantee an extended lifespan. Your mattress will suffer from damage if you do not use a mattress protector. Or if the foundation of the mattress doesn't match, it won't qualify for a warranty.
It is a general rule that mattresses the last five to ten years. However, you can decide if you need to replace your mattress based on other warning signs. Here are some questions you should ask yourself to find out if you need to need a mattress replacement:
Do you feel sore when you wake up?
Is your mattress lumpy?
Do you sleep better on other mattresses?
These signs determine whether you need a new mattress or not. After purchasing a mattress, do not forget to add a mattress protector, as it helps avoid spills, allergens, dust, and other hazards.
Types of Mattress
1. Open Spring Mattress:
These are also called continuous or open coil mattresses. These mattresses comprise a single, large metal wire, coiled into numerous springs. An extra wire or border rod provides structure and maintains shape. This option is best in terms of monetary value, although sides of open spring mattresses are not hand-stitched but machine-stitched. These are lighter so you can easily turn the mattress. They are less supportive than other options, so they work well for children's beds or guest bedrooms, with occasional usage.
2. Pocket Spring Mattress
This is the most luxurious mattress, as these comprise individual, small springs housed in fabric pockets. You can buy firm, medium, or soft versions, based on your preference. These are better than latex or memory foam while offering breathability, making them ideal for use if you feel hot at night. However, these are heavy to turn, and come in fillings such as lamb's wool, which can trigger allergies. If you want a bed for two people, these are perfect as the springs are separate and cater to different weights and needs. Furthermore, the springs installed in this mattress will minimize the risk of your partner rolling towards you in the middle of the night.
3. Bed-in-a-box
These mattresses are a game-changer. Bed in a box has revolutionized the way we purchase beds. You can order these beds on the internet. This eliminates the hassle of visiting the shop, choosing a mattress, and waiting a week for it to arrive. These mattresses arrive in a few days, compressed, and rolled in a box. You just need to unravel it, and it's ready to use in a few hours. They mostly comprise foam between springs and memory foam.


4. Memory Foam Mattress
These modern mattresses contain memory foam, a moldable material that responds to weight and temperature. It also has hypoallergenic properties. This means that the mattresses will mold according to your body and relieve pressure on the joints by absorbing it.
5. Latex Mattress
These mattresses contain latex foam inside, hence the name 'latex mattresses.' Latex is a breathable material, so you do not feel hot while you're sleeping. These are also extremely durable, so you can use them for many years. These are ideal options for people with asthma and allergies. If you prefer a firmer bed, these are a better option as they are solid at first.
6. Hybrid
These mattresses comprise a combination of materials and mostly include pocket springs, latex, and memory foam. These foams are specially designed to give a balanced sleeping experience. These mattresses often come with memory foam on the top layer and pocket spring base that provides both support and comfort. This eliminates all the pain and aches by responding to the shape of your body. Hybrid beds are a popular choice. If you are looking for a mattress with the qualities of different mattress types, opt for a hybrid. For instance, you can get a mattress with a combination of memory or latex foam or innerspring with a top layer of memory foam.
7. Continuous and Coil
This option is popular and budget-friendly because the mattress' design features a single looped wire. However, an open coil mattress's construction includes a single spring joined together with one wire. A continuous coil mattress is drastically cheaper than any other type of mattress. But you must know that these mattresses, despite the attractive price, are more likely to become flabby and wear out quickly. Moreover, as these mattresses comprise a single unit, they move around while you sleep. You should choose other options if you or your partner moves or turns in the night.
Tips for Choosing a Mattress
The first thing you need to consider is whether the mattress is comfortable. Regardless of how expensive a mattress you buy, it's a waste of money if you don't feel comfortable in it.
Get a mattress size based on your needs. If you feel restricted on a narrow bed, you need a double bed for more space. A queen-sized bed is generally too large for a single person, but it will be great if you require extra space. California king or king-sized mattresses are for master bedrooms so that partners can have plenty of space for themselves.
When considering firmness, do not believe labels like extra-firm, medium-firm, or firm. You cannot depend on these labels as extra-firm for one brand may be a medium firm for another one.
You should test the mattress personally. In most bed or mattress shops, you can lie on the mattress to see if it works for you or not.
When buying a mattress online, consider looking for reviews. This way, you can narrow down your options and get advice from people who already use the same mattress.
Always remember that firmer is not better. You should look for a mattress with enough firmness so to support your spine and other body parts. Excessive firmness can prevent your spine from maintaining a natural curve. Hence, your pressure points will feel uncomfortable while you are sleeping.
Softer mattresses are not always better either, as they bring down the middle area of your spine and lead to poor posture and back pain.
An adjustable air bed is an expensive but safe option. You can adjust the softness and firmness of your mattress with a remote. This will allow you to feel comfortable, even if you did not even test the mattress.
Multi-zoned beds are a good alternative if you find adjustable beds expensive. You can purchase a mattress with various support zones. You need to search for a mattress that is firmer in the middles area of the spine and softer at your shoulder and hips.
Decide a budget and stick to it. You will find a large variety of mattresses with various price ranges. So you should select a price range and avoid going over it.
Do not rush when trying to make a final decision. Take your time if you want to make the right decision. You don't want to go through the hassle of bringing home a bad mattress and then trying to return it.
Look at all your options. You should take your time researching materials like latex, memory foam, waterbeds, air beds, innersprings, and so on, to find the best one.
Metal coils are common options, but that does not make them the best. Innerspring beds are prone to allergens and sagging, bounce, and noise that many people find uncomfortable.
Memory foam may not be the right choice for you, either. Regardless of all the hype, these mattresses expel a horrible chemical smell, feel hot, and are prone to body marks.
Natural latex foams are better. You should consider these mattresses if you are deciding to go for classic foams.
Waterbeds are not for all. You will feel cool with these beds, and they follow the shape of the body. Some users claim to experience dizziness and seasickness and claim that it lacks proper back support sometimes.
Branded mattresses have value. There is a reason why some brands are more popular than others. Opt for a trusted brand that offers better customer support and high-quality products.
The mattress should cover a good warranty. Warranty is an essential aspect of customer service when considering mattress brands. The longer the warranty is, the better benefits you will get.
Conclusion
You need to remember that you will be spending more time on the bed than with any other furniture at home. Spending some extra time searching for the perfect mattress can reap huge benefits in contributing to your well being and comfort for a long time.
Posted by Stephanie Johnson
On July 28, 2020