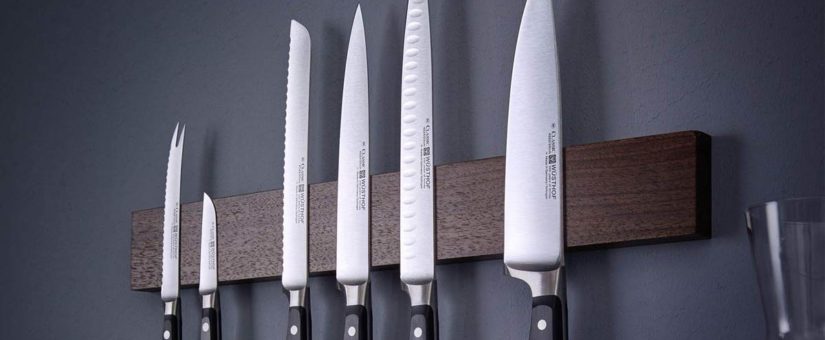 Best kitchen Knives
You use a knife daily for your kitchen chores; every kitchen task while preparing food eventually requires a knife. There are many appliances in your kitchen that have alternatives. Do you ever wonder, what is the alternative of a knife? How can you cut vegetables, fruits, and meat without a knife? Until now, there is no such invention that can replace a knife, and that fact alone makes kitchen knives indispensable.
The manufacturing of a knife is not a simple task; the workers have to maintain the quality of the product throughout the production. They take high-quality steel, use an accurate quality-control system, and utilize proper heat to melt steel, etc. to create the perfect knife. Now, every knife is supposed to cut stuff, but it does not mean you can use just about any knife in your kitchen.
You have to look into quite a few factors to pick the perfect knife. If you purchase a low-quality knife, you will soon know it after working with it in your kitchen for a few days. Let us help you buy the perfect knife.
Important Considerations while Buying a Kitchen Knife
While buying the best kitchen knife for your daily use, it is essential to consider the following three points.
· Handle
Kitchen knives can have different types of handles attached to them. Plastic, metal, and wood are the common materials used for making knife handles. These three materials will affect the weight of your knife and its price. We would recommend you opt for something that suits you and is comfortable. You can buy one-piece metal knives wherein the handle is the same metal as that of the blade. However, metal handles can get hot or cold depending on what you are cutting. Wood handles are sturdy too but only when the knife's metal is far inside the handle.
· Tang
Kitchen knives with no tang are a nightmare. You have to put extra strength on your knife just to cut a tomato. These days, you can find several kitchen knives that have a full tang, which means your blade runs throughout the handle.
· The Type of Blade
Another important factor to consider while buying a kitchen knife is knowing the type that would work best for a specific task. You have utility, boning, carving, paring, serrated, etc. knives. They are all meant to perform a different task. You don't want to be cutting meat or potatoes with a cheese knife. So, pick the right type based on what you are buying the knife for.

6 Best Kitchen Knives
1. Santoku 7-Inch Knife: Global
The santoku 7-inch kitchen knives from global are made of stainless steel to avoid cracks that can trap small pieces of food. The sharp-edged blade has small empty notches on it, so pieces of vegetables won't stick while cutting. The manufacturers of the santoku 7-inch knife work hard to make this knife one of the sharpest knives. Santoku knife is small and sharp, which makes it perfect for everything, such as cutting onion and carrots, smashing garlic, etc.
2. Classic 8-Inch Knife: Misen
The famous misen's kitchen knife has an eight inch blade, which is made of high carbon stainless steel. This material is tough, superbly sharp, and strong. Its inclined edge encourages you to have a proper grip on your knife.
Other than holding a knife, a classic 8-inch knife already feels stable, comfortable, and balances in a user's hand. The design of the classic 8-inch kitchen knives is beautiful, but it will cost you twice as much as a regular knife. You will also notice a triple immersed handle to provide you a full tang.
3. Classic 6-Inch Knife: Shun
Beautiful classic 6-inch kitchen knives from shun can conveniently cut through vegetables because of its sharp edge. The handle of this kitchen knife has a round shape made of pakkawood to provide comfort even for small hands. Pakkawood is a genuine wood filled with resin for water-resistance and durability.
A 6-inch blade is a perfect fit on a pakkawood handle, and it may feel lighter too. This is a multi-tasking knife. You can do a lot of tasks with it like mincing, cutting, cubing, paring, dicing, chopping, slicing, and transferring ingredients.
4. Rosewood Forged 8-Inch Knife: Victorinox
The Victorinox Rosewood Forged 8-inch kitchen Knives are not only beautiful, but they can also chop parsley, cut onions, slice tomatoes, and cut chicken into fine pieces quicker than other kitchen knives. The curved handle of the gorgeous rosewood 8-inch kitchen knife can provide you with an ergonomic grip. It is also strong, easy to carry, and you can depend on it for everyday use.
5. Renaissance 8-Inch Forged Knife: Mercer Culinary
The moment you pick up the renaissance 8-inch forged kitchen knife in your hand, you will feel good and comfy. The main purpose of mercer culinary is to make a kitchen knife well-built and light. This knife contains a high-carbon stainless German steel blade to slice and cut any food smoothly. You do not have to add extra pressure on this knife because its blade is pretty sharp.
The full blade edge of this knife has long-lasting sharpness, is highly efficient when you are chopping and cutting.
6. Classic Craftsman Knife: Wusthof
Classic craftsman kitchen knife from wusthof is well-known as a carving and boning knife. This kitchen knife can help you perform kitchen tasks with its sharp tip, such as slicing, chopping, filleting, etc.
This kitchen knife is perfect for almost every task. The extra-sharp blade of this knife can cut through chicken effortlessly. You can cut bones of a chicken effortlessly. The material that makes this knife sturdy is high-carbon stainless steel.
Bottom Line
Before buying a kitchen knife, you should do proper research and think about your needs and budget. The looks of the kitchen knives can be enticing, but they don't help you with cutting, slicing, dicing, chopping, etc. Always hold the knife in your hand and simulate cutting with it to get its feel. Last but not least, don't let the price be an indicator of how good or bad a knife is.
Posted by Stephanie Johnson
On July 13, 2020